At Silvercorp, we understand that strong corporate governance requires good leadership to ensure that all practices are up to date and meets all applicable standards, and to integrate our vision and values into all areas of our business. Our board and executive team are guided by local, national, and international legislation and governance standards, stock exchange rules and regulations, the industry's best practices, and the Company charter; we regularly review these standards and processes in order to maintain compliance and continue to generate sustainable value for our stakeholders. We are committed to operating transparently and ethically in all aspects of our business.
For more information on our governance, click here.
Our company values of respect, equality, and responsibility are reflected in our corporate policies and serve as guidelines in regard to ESG reporting and disclosure. We aim to operate transparently and to incorporate ESG factors and responsible business practices into all aspects of the company.
Silvercorp's Board consists of five directors, four of whom are independent. The Company assesses nominees against criteria such as experience, knowledge of the Company and its operations, ethics and integrity, competency, and diversity. The Board oversees the Company's strategic development, key risks, and long-term development, considers and approves major decisions, supervises business operations, and evaluates the Company's performance. Each director is appointed for a term of one year at the annual general meeting of shareholders and committee memberships are re-constituted after each annual general meeting.
Silvercorp is dedicated to promoting and improving safe and sustainable practices. In Fiscal 2022, the Company officially established the Sustainability Committee under the Board of Directors to enhance the role of the Board in oversight of ESG matters. Chaired by Ms. Marina Katusa, Independent Director, the Committee reflects the Company's commitment to sustainability as part of our core business model: the Committee formally integrates the ESG framework into executive-level decision-making by using ESG standards in the assessment of management performance, Company operations, safety procedures, and, where necessary, the recommendation of policy changes based on those assessments. The Committee's duties also include using ESG criteria to identify potential risks and develop risk-prevention programs, minimizing accidents. In the unlikely case that an ESG incident does occur, the Committee oversees its investigation and handles any ensuing legal issues.
On February 23, 2023, the Board adopted the Occupational Health and Safety Policy, Environmental Protection Policy, Human Rights Protection Policy, and Community Relations Policy, as proposed by the Sustainability Committee.
In Fiscal 2019, Silvercorp established the ESG Management Center in Beijing, which reports directly to the Sustainability Committee. Chaired by Vice General Manager Mr. Peng Lichang, the ESG Management Center consists of an estimate of 3 FTE and operates with the support of staff from related departments, including environmental protection, safety, and human resources. The ESG Management Center is responsible for planning the Company's sustainability system at the management level and coordinating, promoting, and overseeing the implementation of ESG-related policies in the subsidiaries.
For more information regarding our board members, committees, or policies, please see our Information Circular here, click here, or visit the Governance page.
Stakeholders' trust and support are pivotal to Silvercorp's sustainable development. We continue to optimize stakeholder engagement mechanisms to drive high-quality and sustainable development that balances economic growth, environmental protection, and social harmony. Each year, Silvercorp conducts a company-wide risk evaluation in order to identify the critical material issues associated with our operations and analyzes key risks for our stakeholders, reporting, and future targeting. In Fiscal 2022, we identified, assessed, and prioritized our top sustainability topics based on input collected from stakeholders through questionnaires, and identified a range of ESG risks with material impacts for all stakeholders. The process resulted in a materiality matrix that illustrates how each sustainability issue ranks in its "impact on the Company's sustainable development" and "significance to stakeholders". The results of this materiality assessment have been reviewed and confirmed by the ESG Management Center, the Sustainability Committee, and the Board.
For more information on our approach to risk management and stakeholder engagement, click here.
The key identified issues or topics of interest included in our matrix are as follows: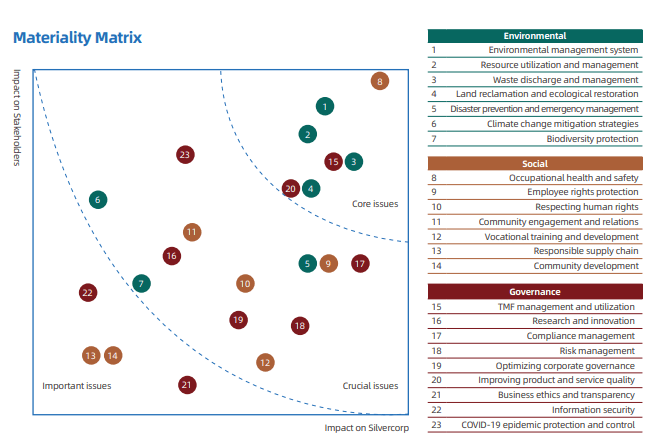 At Silvercorp, we strive to find innovative ways to achieve excellence in all areas of our Company. In Fiscal 2022, Henan Found and Guangdong Found successfully passed: 1) the Quality Management System Certification, 2) the Occupational Health and Safety Management System Certification, 3) the Environmental Management System Certification, and 4) the Energy Management System Certification. The certifications certify that Silvercorp's operation and management meet the requirements of the ISO series of international standards. They reflects Silvercorp vision, mission and values as a company, and Silvercorp's continuous efforts to achieve excellence. Silvercorp is honored to be the recipient of the following awards:
TIME
ENTITY
AWARDS/RECOGNITION
Fiscal 2022
Henan Found

Passed

 

ISO 14001 Environmental Management System Certificatio

Fiscal 2022
Guangdong Found

Passed

 

ISO 14001 Environmental Management System Certification

Fiscal 2022
Henan Found

Passed

 

ISO 45001 Occupational Health and Safety

 

Management System Certification

Fiscal 2022
Guangdong Found

Passed

 

ISO 45001 Occupational Health and Safety

 

Management System Certification

Fiscal 2022
Henan Found

Passed

 

Energy Management

 

System Certification

Fiscal 2022
Guangdong Found

Passed

 

Energy Management System Certification

Fiscal 2022
Henan Found

Passed

 

Quality Management System Certification

Fiscal 2022
Guangdong Found

Passed

 

Quality

 

Management System Certification

Fiscal 2022
Green Procurement Action Plan

Requires the prioritized procurement of conventional

 supplies that meet mining products

 safety standards

 (KA/MA), ISO9001, ISO14001 and other management system certifications
Fiscal 2022
Trade Unions

Silvercorp and its subsidiaries have set up a trade unions,

 

with trade union rate of 100%

Fiscal 2022
Henan Found Shagou Branch Trade Union

Model Home of Workers of Luoyang City

Fiscal 2022
Guangdong Found Trade Union

Model Home of Workers of Guangdong City

March 2021
Henan Found
2020 Luoyang Outstanding Unit for Production Safety
January 2021
Silvercorp
"2020 Responsible Brand Award" at China Charity Festival
January 2021
Henan Found
Awarded A Credit Grade Enterprise Certificate by Henan Government
2021
R&D
20 new patents (including 18 utility patents and 2 invention patents)


Altogether 73 patents (including 69 utility patents and 4 invention patents)

December 2020
Henan Found
China Red Cross Medal for Giving
December 2020
Henan Found
2020 Top 100 Enterprises in Luoyang
December 2020
Henan Found
2020 Top 20 Private Enterprises in Luoyang
December 2020
Guangdong Found
Yunfu City Enterprise for Clean Production
December 2020
Guangdong Found
Outstanding Unit for Epidemic Response recognized by the Yunfu Municipal People's Government
November 2020
Henan Found
2020 Environmentally and Socially Responsible Enterprise
November 2020
Guangdong Found
Pilot Unit for Digital Construction of Green Mines
November 2020
Guangdong Found
2020 Model Enterprise for Green Development
September 2020
Henan Found
Luoyang 2020 "99 Public Welfare Day" Caring Enterprise for fundraising for courageous acts
August 2020
Henan Found
Model Unit for High-quality Development in China Mining Industry
July 2020
Guangdong Found
Outstanding Workers' Home of Yunfu City
June 2020
Henan Found
Winner of National "Ankang Cup" Contest
June 2020
Guangdong Found
Executive Council Member of China Green Development Alliance