SEPTEMBER 7, 2010
VANCOUVER, British Columbia – Silvercorp Metals Inc. ("Silvercorp" or the "Company") announced today that a surface drill program has commenced at the Silvertip project, British Columbia, Canada. Initially the drill program will focus on areas where 21 historic drill holes yielded significant silver, lead, and zinc results of mineralization intercepts but these results were not included in the 2010 resource estimation as the drill holes were too widely spaced (please see www.silvercorp.ca for drilling area locations). A 10,000 meter drill program is planned and will be expanded to 20,000 meters, depending on successful drill results. It is expected that the 20,000 meters of surface drilling will be completed by early to mid November, 2010. A camp facility that is rated to accommodate 49 persons has been installed on site and four drill rigs have been mobilized to the property and have started drilling. The 2010 calendar year exploration budget for the Silvertip project is estimated to be $5 million.
Several previously identified geophysical and geochemical anomalies near the Donegal Mountain area, which are approximately 5-8 kilometers south of the Silvertip site, will also be investigated and possibly drill tested. These anomalies occur along the same argillite-limestone contact which hosts the high-grade silver-lead-zinc mineralization at the Silvertip site. One of the silver, lead, and zinc soil geochemical anomalies extends over 1.5 km from which a historic grab sample assayed 467 grams per tonne silver, 26% lead, and 2% zinc.
Silvercorp has completed a 4113 line kilometer VTEM airborne geophysical survey over an area of 367 square kilometers covering the Silvertip property. The survey is designed to reveal geophysical signature of the known mineralization and then used to identify similar targets for further discovery. The data is currently in the final stages of processing and interpretation.
Silvercorp has also engaged qualified engineering and environmental consulting companies to complete various studies and reports required for the submission of a B.C. Small Mine Permit application for a mining operation with an annual capacity of up to 75,000 tonnes. The Small Mine Permit will allow Silvercorp to commence early production on higher grade (>1,000 g/t silver equivalent) ore zones that can be accessed already from existing tunnels. Before obtaining the Small Mine Permit, Silvercorp will first apply for necessary permits to de-water the existing underground tunnels, followed by underground exploration work, including drilling, bulk sampling, test mining, and a geotechnical assessment.
Management Appointment for the Silvertip Project
The Company is pleased to announce the appointment of Frank Hrdy, M.Sc., MBA, as Vice President of Canadian Operations. Mr. Hrdy will be responsible for spearheading the development of Silvercorp's advanced stage Silver-Lead-Zinc Silvertip property, located in Northern B.C., Canada, into a producing mine. Mr. Hrdy obtained his Honours B.Sc. degree in Geology and M.Sc. degree in Geology/Geochemistry at the University of Saskatchewan and his MBA at the University of Victoria. Mr. Hrdy has been involved in the mineral mining and exploration industry since 1984. Mr. Hrdy joined the Silvercorp team from his last position as Vice President of Exploration and Mineral Resource Development Manager and brings a strong background in project management, mineral exploration, resource estimation, and resource development where strict grade control was a priority. Mr. Hrdy has worked at mining operations including the Campbell, New Britannia, and Seabee Mines and other numerous mining development projects which have included exploration and underground development in the Czech Republic, Greece, and most recently the Bingo underground development and bulk sample in Saskatchewan, Canada.
Frank Hrdy is the Qualified Person on the project as defined under National Instrument 43-101. He has verified the information and has reviewed and approved the contents of this news release.
About Silvercorp Metals Inc.
Silvercorp Metals Inc. is engaged in the acquisition, exploration, development and mining of high-grade silver-related mineral properties in China and Canada. Silvercorp is the largest primary silver producer in China through the operation and development of four silver-lead-zinc mines at the highly profitable Ying Mining Camp in the Henan Province of China. The company is also applying for a mining permit at the GC property in the Guangdong Province to establish a second base for production in China. Additionally, Silvercorp recently acquired the Silvertip project in northern British Columbia, Canada, as an additional platform for growth and geographic diversification. The Company's shares are traded on the New York Stock Exchange and Toronto Stock Exchange and are included as a component of the S&P/TSX Composite and the S&P/TSX Global Mining Indexes.
For further information: SILVERCORP METALS INC., Rui Feng, Chairman & CEO and Lorne Waldman, Corporate Secretary, Phone: (604) 669-9397, Fax: (604) 669-9387, Toll Free 1(888) 224-1881, Email: info@silvercorp.ca, Website: www.silvercorp.com.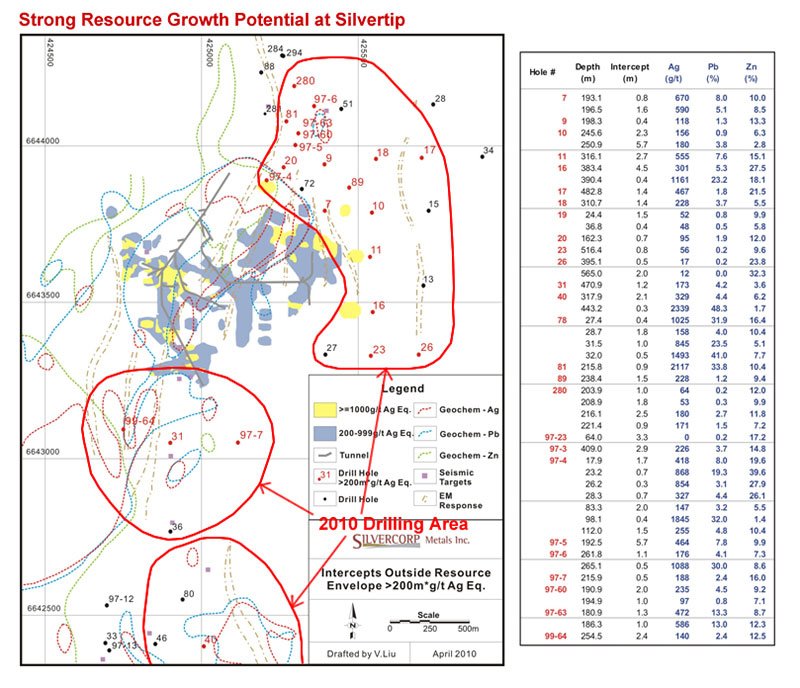 CAUTIONARY DISCLAIMER — FORWARD LOOKING STATEMENTS
Certain of the statements and information in this press release constitute "forward-looking statements" within the meaning of the United States Private Securities Litigation Reform Act of 1995 and "forward-looking information" within the meaning of applicable Canadian provincial securities laws. Any statements or information that express or involve discussions with respect to predictions, expectations, beliefs, plans, projections, objectives, assumptions or future events or performance (often, but not always, using words or phrases such as "expects", "is expected", "anticipates", "believes", "plans", "projects", "estimates", "assumes", "intends", "strategies", "targets", "goals", "forecasts", "objectives", "budgets", "schedules", "potential" or variations thereof or stating that certain actions, events or results "may", "could", "would", "might" or "will" be taken, occur or be achieved, or the negative of any of these terms and similar expressions) are not statements of historical fact and may be forward-looking statements or information. Forward-looking statements or information relate to, among other things: the price of silver and other metals; the accuracy of mineral resource and mineral reserve estimates at the Company's material properties; the sufficiency of the Company's capital to finance the Company's operations; estimates of the Company's revenues and capital expenditures; estimated production from the Company's mines in the Ying Mining District; timing of receipt of permits and regulatory approvals; availability of funds from production to finance the Company's operations; and access to and availability of funding for future construction, use of proceeds form any financing and development of the Company's properties.
Forward-looking statements or information are subject to a variety of known and unknown risks, uncertainties and other factors that could cause actual events or results to differ from those reflected in the forward-looking statements or information, including, without limitation, risks relating to: fluctuating commodity prices; calculation of resources, reserves and mineralization and precious and base metal recovery; interpretations and assumptions of mineral resource and mineral reserve estimates; exploration and development programs; feasibility and engineering reports; permits and licences; title to properties; First Nations title claims and rights; property interests; joint venture partners; acquisition of commercially mineable mineral rights; financing; recent market events and conditions; economic factors affecting the Company; timing, estimated amount, capital and operating expenditures and economic returns of future production; integration of future acquisitions into the Company's existing operations; competition; operations and political conditions; regulatory environment in China and Canada; environmental risks; foreign exchange rate fluctuations; insurance; risks and hazards of mining operations; key personnel; conflicts of interest; dependence on management; internal control over financial reporting as per the requirements of the Sarbanes-Oxley Act; and bringing actions and enforcing judgments under U.S. securities laws.
This list is not exhaustive of the factors that may affect any of the Company's forward-looking statements or information. Forward-looking statements or information are statements about the future and are inherently uncertain, and actual achievements of the Company or other future events or conditions may differ materially from those reflected in the forward-looking statements or information due to a variety of risks, uncertainties and other factors, including, without limitation, those referred to in the Company's Annual Information Form for the year ended March 31, 2010 under the heading "Risk Factors". Although the Company has attempted to identify important factors that could cause actual results to differ materially, there may be other factors that cause results not to be as anticipated, estimated, described or intended. Accordingly, readers should not place undue reliance on forward-looking statements or information.
The Company's forward-looking statements and information are based on the assumptions, beliefs, expectations and opinions of management as of the date of this press release, and other than as required by applicable securities laws, the Company does not assume any obligation to update forward-looking statements and information if circumstances or management's assumptions, beliefs, expectations or opinions should change, or changes in any other events affecting such statements or information. For the reasons set forth above, investors should not place undue reliance on forward-looking statements and information.