APRIL 28, 2008
VANCOUVER, B.C. – April 28, 2008 – Silvercorp Metals Inc. (TSX-SVM) ("Silvercorp" or the "Company") is pleased to announce that it has entered into a share purchase agreement with Yangtze Gold Ltd. ("Yangtze Gold"), a private BVI company, to acquire from Yangtze Gold all of the issued shares of Yangtze Mining Ltd. ("Yangtze Mining"). Yangtze Mining owns a 95% interest in a Sino-Foreign joint venture company, Anhui Yangtze Mining Co. Ltd. ("Anhui Yangtze"), which owns 100% of the Gaocheng ("GC") and Shimentou ("SMT") silver, lead and zinc exploration permits located in Guangdong Province, People's Republic of China.

The GC and SMT Permits, located about 200 kilometres west of Guangzhou City, Guangdong Province, China, cover an area of 5.54 and 9.49 square kilometres respectively. The permits, since 2001, have been explored for gold, silver, lead, zinc, and sulphur. A total of 16,819 metres of diamond drilling in 53 drill holes and 13,630 cubic metres of trenching have been completed on the properties by Anhui Yangtze.

A NI 43-101 independent technical report dated January 17, 2008 has been completed on the Permits by SRK Consulting China Limited (the "SRK Report") which reported Measured and Indicated Resources on the GC Permit alone of 1,829,700 tonnes grading 129 grams per tonne (g/t) silver (Ag), 1.45% lead (Pb), 2.79% zinc (Zn) and 0.14% tin (Sn), and Inferred Resources of 7,281,300 tonnes grading 125 g/t Ag, 1.38% Pb, 3.00% Zn and 0.13% Sn.

In compliance with Chinese regulations for obtaining a mining license, a Chinese qualified agent, the Guangdong Geological Survey Institute ("GGSI") has also prepared a Geological Report on the GC Permit dated September 30, 2007. The report summarizes the geology and exploration of the GC permit, and contains a resource estimate conducted in accordance with Chinese Resource Standards. The GGSI resource estimate was accepted by the Mineral Resources and Reserves Examination Center ("MRREC") of the Ministry of Land and Resources PR China ("MLR") based in Beijing which issued a "Resource Estimate Confirmation Letter", on December 24, 2007, which has, in turn, been accepted for filing by the Department of Land and Resource of Guangdong Province, thus allowing Anhui Yangtze to apply for a mining license on the GC Permit, based on the resource estimate.

The purchase price for the shares of Yangtze Mining is about C$61.95 million and will be paid 40% in cash and 60% in common shares of Silvercorp. The 40% cash portion will be payable as to 20% at closing and 20% plus interest at 5.5% on that amount from the date hereof payable when Silvercorp receives its next dividend payment from its Chinese subsidiary Company, or within 3 months, whichever is earlier. The 60% common share portion of the purchase price will be payable by the issuance at the closing of 4,532,543 common shares of the Company at a price of C$8.20 per share, being the volume weighted average trading price of the shares of the Company during the 30 calendar days prior to the date of signing this agreement.

The Company will pay a deposit of C$2.0 million to Yangtze Gold, which amount will be credited against the cash portion of the Purchase Price. The deposit is non-refundable unless a breach of certain representations and warranties by Yangtze Gold or that Silvercorp's financial advisor is unwilling or unable to deliver a written opinion that the transaction is fair from a financial point of view to Silvercorp's shareholders. The Company will take over the operation of Anhui Yangtze immediately and will advance RMB¥20 million to Anhui Yangtze so that it can start the process of applying for a mining permit and carry out further exploration program, including drilling.

Dr. Rui Feng, Chairman & CEO of the Company, is a Director of Yangtze Gold, Yangtze Mining, and Anhui Yangtze, and Mr. J. Feng, a relative of Dr. Feng, controls Yangtze Gold. The transaction has been approved by the independent directors of the Company in accordance with applicable regulations. Closing of the transaction is subject to the Company's due diligence, receipt of a fairness opinion, and approval by required regulatory authorities. Closing is expected to occur on or before June 8, 2008.

Through consolidation of the Ying Mining Camp over the last six months, the Company is now operating four mines at the Ying Camp and is increasing its mill throughput to 3,000 tonnes per day from its current throughput of 1,300 tonnes per day. With the purchase of the GC and SMT Properties, Silvercorp expects to realize the benefits of growth in resources and near term production from a new mining camp in a different province, and establishes a new base for further consolidation of the GC silver, lead, zinc mining district.

Geology of the GC and SMT Permit areas
The GC and SMT Permits are located at the South China Orogenic Belt, where the NE trend DGS Dome structure is developed with Proterozoic and Sinian metamorphic rocks as core and Carboniferous and Triassic sedimentary as limbs. Yanshanian (Mesozoic period) intermediate-acid magma emplaced along DGS Dome structure accordingly led to the faulting trending NE and NW. These Yanshanian faults host the mineralization at both GC and SMT Permits, which is believed to be intrusion related similar to other hydrothermal deposits.

The following is a brief summary of the GC and SMT Permits from the SRK Report.

GC Permit
Mineralized bodies in the GC permit occur as veins within alteration zones in both granite stock and strata which may reach more than a few metres (m) wide along faults and into hanging wall and footwall, and are structurally controlled. A total of 13 silver-lead-zinc mineralized veins have been identified within an area of 3km long on NW by 1.5km wide on NE. Mineralized veins V2, V6, V7, V2-2 and V10 are dominant, accounting for approximately 86% of known mineralization with V2, being the largest vein, accounting for approximately 48% of known mineralization. This vein has been outlined along strike for 1,255m and at depth down to 466m with thickness ranging 0.39-9.69m grading 7.45-968g/t Ag , 0.03-6.81% Pb , 0.01-10.61% Zn and 0.0-0.56% Sn.

The calculated mineral resources for the GC Permit as outlined by the SRK Report are:

* O is oxide ore and S is sulphide ore
**These mineral resources were calculated based on a cut-off grade of 40 g/t for Ag, 0.7% for Pb, 0.7% for Zn and 0.1% for Sn. with a minimum mineable thickness of 0.8 m and maximum thickness of internal waste of 2.0 m.
The following table outlines assay results of some of the drill holes, tunnels and trenches at the GC Permit area:
Significant intersection of diamond drill holes from GC Permit area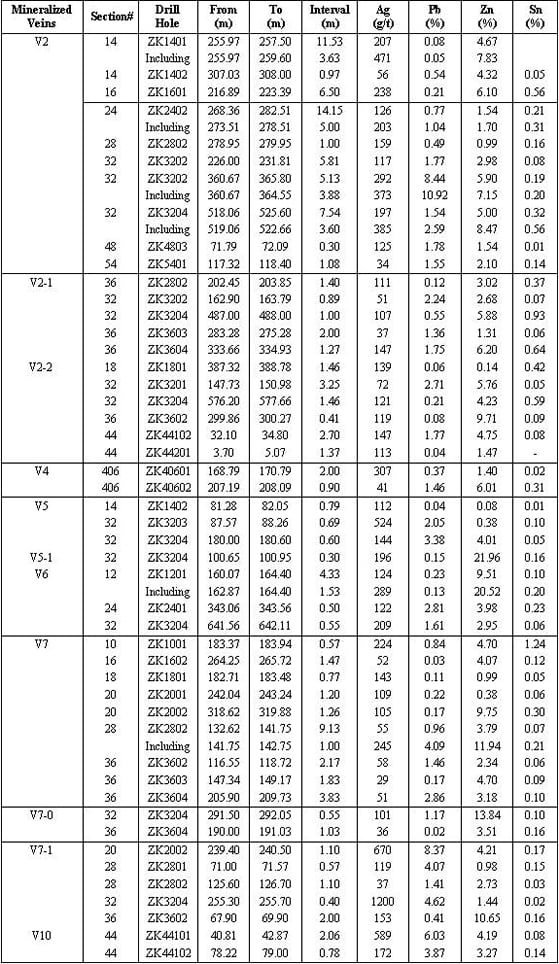 Significant intersection of tunnels and surface trenches of the GC Permit area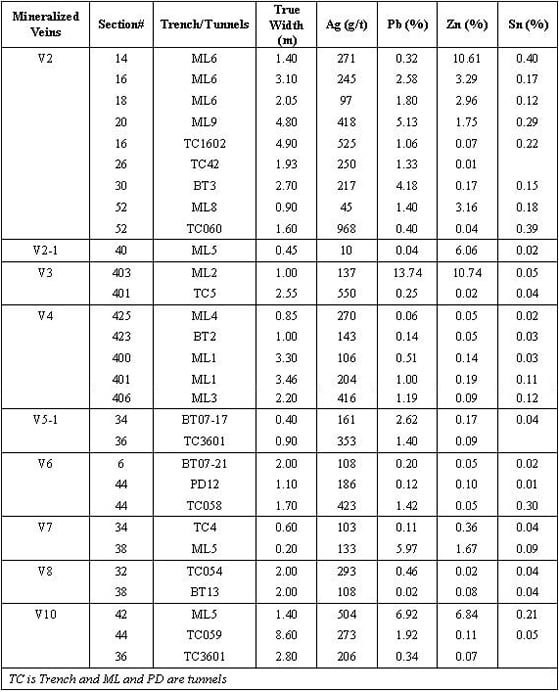 SMT Permit
The poly-metallic mineralization in the SMT deposit is both strata and structurally controlled and considered to be a sedimentary-hydrothermal type deposit. Based on previous historical work which included 3,218m of drilling (17 holes) and 4,196 cubic meters of trenching, it has been established that mineralized veins occur in a certain layer of strata that is underneath a thick layer of pyrite-rich strata as a layer-like or lenses which may extend up to 4,000 m along strike. Six (6) mineralized veins ( V1, V2, V3, V5, V6 and V7) have been defined.
V3, V7 and V2 are the main mineralized veins. V3 mineralized vein has a defined length of 1000m and a defined depth of 100m with vertical thickness of 0.7 to 3.65m with grades varying 54.4 to 344 g/t Ag, 5.21 to 8.87% Pb, 0.07 to 6.08% Zn, 0.03 to 0.44% Sn and 0.17 to 1.79 g/t Au. Vein V7 has a defined length of 300m a depth of 145m and a vertical thickness of 2.27 to 7.59m with grades varying 14.6 to 154.2 g/t Ag, 0.57 to 7.28% Pb, 0.60 to 7.45% Zn, 0.21 to 1.44% Sn and 0.05 to 0.43 g/t Au. Vein V2 has a defined length of 400m, depth of 500m and a vertical thickness of 1.17 to 3.21m with grades varying 20.8 to 88.6 g/t Ag, 1.71 to 1.74% Pb, 0.83 to 0.58% Zn, 0.21 to 1.44% Sn and 0.12 to 0.63 g/t Au.
The SRK Report did not calculate any resource for the SMT Permit area. However, based on the SRK report, a historical resource was calculated by the GGSI in 2005, which contains 2,129,800 tonne materials grading 1.53 g/t Au, 130 g/t Ag, 5.09% Pb and % Zn. Please note that a qualified person has not done sufficient work to classify the GGSI historical resource estimate as current mineral resources and Silvercorp is not considering these historical resources as current mineral resources. This historical resource calculation is not in compliance with NI 43-101 and should not be relied upon:
Historical Resource Estimate by GGSI (not NI43-101 compliant)

The following table outlines assay results of drill holes, tunnels and trenches at SMT Permit area: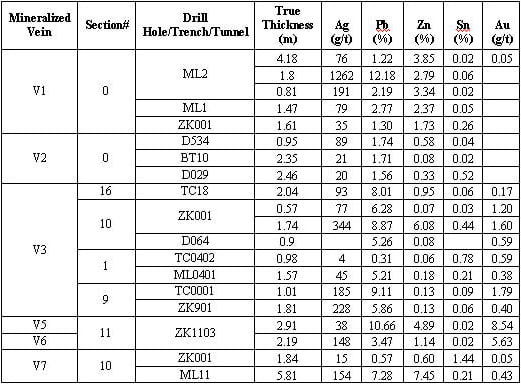 ZK: drilling hole; ML: tunnel; TC and BT: trench
Future Plan
The Company will initiate a drilling program on both the GC and SMT properties immediately as the current information indicates that a number of drilling targets exist. Concurrently, the Company will also start the process of applying for a mining permit on the GC Permit using the resource estimate done by GGSI in 2007 that has been accepted for filing by the relevant Chinese government authorities.
Quality Control
Anhui Yangtze Mining Co. Ltd. has implemented a quality control program to ensure best practice in sampling and analysis of the trench, tunnel and drilling hole samples. All samples are shipped directly in a security sealed bag to the Assaying Centre of South-western Metallurgy and Geology (ISO9001 certified) in Chengdu, Sichuan, China and the Laboratories of Guangdong Zhaoqing Engineering Geology and Exploration Institute (ISO9001 certified), the internal checking samples are cross checked by the two laboratories, while the external check samples are assayed by Chengdu Center for Mineral Resource Supervision and Assay, and Guangzhou ALS Chemex. In the laboratories, samples are dried, crushed, split, pulverized to 200mesh, and then assay by Atomic Absorption Spectrometer for gold, silver, copper, and Iodometric Titration for tin.
Mike Hibbitts, P.Geo., a qualified person on the project under NI 43-101, has reviewed this news release.
About Silvercorp Metals Inc.
Silvercorp Metals Inc. is engaged in the acquisition, exploration, and development of silver related mineral properties focusing in the People's Republic of China ("China"). Currently, the Company is operating and developing four Silver-Lead-Zinc mines at the Ying Mining Camp, Henan Province, owned through its 77.5% and 70% Chinese subsidiaries, respectively and is also exploring the Na-Bao Polymetalic Project in Qinghai Province, China owned through its 82% Chinese subsidiary.
The Company's common shares are included as a component of the S&P/TSX Composite, the S&P/TSX Global Gold, and the S&P/TSX Global Mining Indexes.
For further information: SILVERCORP METALS INC., Rui Feng, Chairman & CEO, & Lorne Waldman, Corporate Secretary.
Phone: (604) 669-9397, Fax: (604) 669-9387, Email: info@silvercorp.ca, Website: www.silvercorp.ca
CAUTIONARY DISCLAIMER — FORWARD LOOKING STATEMENTS
Statements in this press release other than purely historical factual information, including statements relating to mineral resources and reserves, or the Company's future plans and objectives or expected results, constitute forward-looking statements. Forward-looking statements are based on numerous assumptions and are subject to all of the risks and uncertainties inherent in the Company's business, including risks inherent in mineral exploration, development, and mining. Production and revenue projections are based not on mineral reserves but on mineral resources which do not have demonstrated economic viability. As a result, actual results may vary materially from those described in the forward-looking statements. There can be no assurance that such forward-looking statements will prove to be accurate, as actual results and future events could differ materially from those anticipated in such statements. Accordingly, readers should not place undue reliance on such statements. The Company does not undertake to update any forward-looking statements that are incorporated by reference herein, except in accordance with applicable securities laws. The Company expressly disclaims any obligation to update any forward-looking statements. We seek safe harbour.